she became a resident of the Tobein Nursing Home until three days before her death. She was buried in Evergreen Cemetery, now known as El Paso Township Cemetery.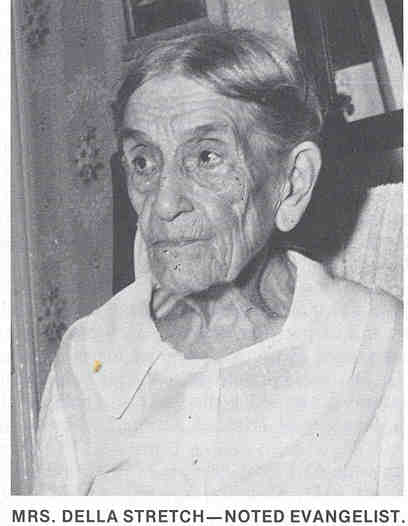 Mrs. Della Stretch – noted evangelist.


SCHOOLS – Tying in with El Paso's beginning, plans for the construction of Centennial School were begun in 1954, 100 years after the town was surveyed. The building was dedicated September 13, 1956, 100 years after the first building (a general store) was built at what is now 101 East Front Street. A vote on the proposed building was defeated November 28, 1953 because it included a gymnasium at an estimated cost of $120,000. A second referendum held June 12, 1954 presented the question in two parts: $395,000 for the school (approved 545-488), and $120,000 for a gymnasium (defeated 623-341). The contract was let March 3, 1955 to Jean A. McCoy & Sons, Pontiac, for $252,900. The remaining $95,000 was to provide equipment. The building contains 14 classrooms, offices, kitchen, dining foyer, restrooms, a playroom, and an agriculture shop and classroom.
On November 6, 1957, the three-story McKinley school building on East Second Street, which had been closed when the Community Unit District was organized in 1948, was purchased by Lester Pfister for $2,200. The building was razed in May 1959, and the site was divided into building lots in 1970.
Page 322