Archbishop Fulton J. Sheen Homepage
A presentation of the El Paso, Illinois, Community History Web Page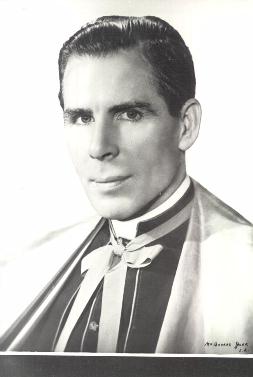 Matthew 10:6-7 -- "Go to the lost sheep and as you go, preach, saying, 'The kingdom of heaven is at hand.'"
Archbishop Fulton J. Sheen was born in El Paso, Illinois, in 1895 and went on to become one of the best known spokesmen in the Roman Catholic Church. His fame came through his 1950's weekly prime-time network television program as well as his many writings.

Please enjoy the following links and memorabilia:

Memorial stone marker in front of his birthplace
On May 2, 1992, the community dedicated a stone marker and plaque, which marks the upstairs apartment birthplace of Archbishop Sheen at 25 W. Front Street, El Paso, Illinois. The building had been torn down years before, but the marker still stands. The inscription of the marker reads:

* * * * * * * * * * * * * * * * * *




25 WEST FRONT STREET EL PASO, ILLINOIS




BIRTHPLACE OF FULTON J. SHEEN




May 8, 1895 December 9, 1979


Bishop Sheen touched the lives of millions
of people with his warmth, wisdom, and
humor. A gifted communicator, he consis-
tently and convincingly taught from his
pulpit, in his writings, on radio, and on his
television program Life is Worth Living.

* * * * * * * * * * * * * * * * * *
There are numerous videos and books featuring Archbishop Fulton J. Sheen. The El Paso Public Library has a collection for lending and many of these may be purchased from vendors on the Internet.

Link back to:
El Paso, Illinois, Community History Web Page
Link back to:

This site is maintained by:
El Paso, Illinois, Community History Web Page
By: Allen C. Drake

Copyright 2002-2020 by Allen C. Drake