(The following are newspaper articles after Bishop Sheen's death reprinted here with permission from page one and page fourteen of the December 16, 1979 issue of the Catholic Post newspaper of the Diocese of Peoria, Illinois.)
<![if !supportEmptyParas]> <![endif]>
Archbishop Fulton Sheen dies
Famed radio and tv preacher native of diocese
<![if !supportEmptyParas]><![endif]>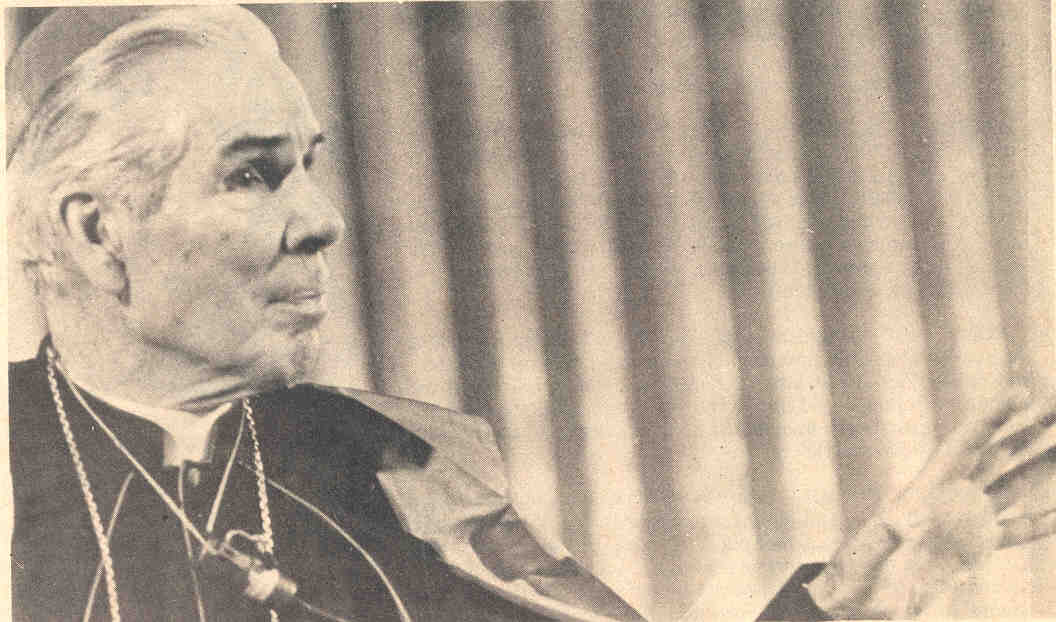 This photo is a Sheen scene familiar to television watchers.
<![if !supportEmptyParas]><![endif]>
NEW YORK (NC)Archbishop Fulton J. Sheen, who was the foremost Catholic preacher and one of the most powerful speakers of his time, died Dec. 9 at his home in New York City. He was 84.
Archbishop Sheen rose to national prominence in the 1950's as host of a weekly television program, "Life is Worth Living," which by 1956 was reaching 30 million people a week. His mail averaged from 8,000 to 10,000 letters a day, with a high of 30,000.
The series, which at its height topped in popularity the "Milton Berle Show," with which it competed for viewers, ended in 1957.
Although it was television that brought him to general prominence, he had been for years a major figure in academic circles.He was a prolific writer and lecturer, but he was primarily a controversialist who sought to confront error and subdue it wherever it appeared.
The early Sheen had much of the flavor of Chesterton. In fact, it could be said that he imitated the great English journalist's devices. Chesterton in turn praised the younger man's work.
In 1930 he showed his, Chestertonian streak in an article entitled "A Plea for Intolerance," which held that the United States was not plagued by bigotry so much as it was plagued by the, "weird fungus of broadmindedness." "A bigoted man is one who refuses to accept a reason for anything; a broadminded man is one who will accept anything for a reason, providing it is not a good reason."
He maintained this stylistic device throughout his career. In 1969, at a Mass for peace in the National Shrine of the Immaculate Conception during the November meeting of the U. S. bishops, he said: "The cross without Christ is the concentration camp, the police state and slavery. Christ without the cross is effeminacy, degeneration, LSD and mysticism which settles for pharmaceuticals instead of sacrifice."
Teaching at the Catholic University of America in Washington from 1926 to 1950, he rose from instructor in the philosophy of religion to associate and then full professor of philosophy. He also wrote books at the rate of two a year for much of this period and had more than 60 books to his credit
But it was his skill as a speaker first on radio and then on television that brought him national fame.
When the National Council of Catholic Men decided to sponsor the Catholic Hour Sunday evening radio broadcasts in cooperation with NBC, Msgr. Sheen became the first regular speaker on the program.
The program, which began on a 17-station network, was carried in 1950 by 118 NBC affiliates and by short wave around the world to an average weekly listening audience estimated at 4 million persons in the United States alone. Several million copies of Msgr. Sheen's radio talks were distributed in printed form.
In the fall of 1951, Bishop Sheen, who had been ordained a bishop the previous June in Rome, began his "Life is Worth Living" television series. By 1956, he was appearing on 123 ABC-TV stations around the country. It was estimated that he reached 30 million people a week.
He also wrote a column entitled "God Love You" for the Catholic press and one called "Bishop Sheen Speaks" for secular newspapers.
Of medium height and slender build, with wavy hair that was greying by the time his television career began, Bishop Sheen had a thin face and deep-set, penetrating eyes, the look and manner of an ascetic, and a rich, cultivated voice. His voice control, timing and sensitivity to an audience were equal to those of professional actors.
At home in the fashionable area of Washington where he spent much of his life, he started his day with a private Mass at 7 a.m. and spent six to seven hours a day studying. "In six or seven minutes," an associate said, "he can give you an excellent digest of a speech you have given him to read. Give him 15 minutes and he can repeat the speech to you verbatim. Give him an hour and a half with an average size book, and he can give you a fairly complete outline of its contents."
He allowed no interruptions, if they could be avoided, and his only pastime was an occasional game of tennis.
The life of the man who reached millions began in the small town of El Paso, Ill., on May 8, 1895. He was one of four sons of Newton and Delia (Fulton) Sheen, both of Irish ancestry. Baptized Peter, he took the name of John at confirmation and later adopted his mother's maiden name as his first name.
His father, a farmer, moved the family to Peoria while Peter (Fulton) was still an infant. There the boy attended St. Mary's School and Spalding Institute, a secondary school conducted by the Brothers of the Christian Schools.
He then went to St. Viator's College in Bourbonnais, Ill., where he was on the debating team that defeated the Notre Dame debating team for the first time in its history.He was also on the staff of the college newspaper. After studying theology at St. Paul's Seminary in St. Paul, Minn., he was ordained to the priesthood for the Peoria diocese on Sept. 20, 1919.
Obtaining bachelor's degrees in theology and canon law at the Catholic University of America in 1920, he went to the University of Louvain, Belgium, where he was awarded a Ph.D. in 1923. He also attended the Sorbonne in Paris and the Angelicum University in Rome, where he took a doctorate in theology in 1924.
His dissertation at Louvain, later expanded into a book, won the Cardinal Mercier Prize for philosophy and praise from Chesterton.
After a year of preaching and teaching in England, he returned to the United States in 1926 and served as assistant pastor of St Patrick's Parish, in Peoria. Eight months later, Bishop Edmund M. Dunne of Peoria said he had been testing the young priest to see whether his success had gone to his head. "I wanted to see if you were obedient" the bishop said. "You have been a good boy. So run along and teach now." And Father Sheen went off to Catholic University.
Among the famous people in whose conversion to Catholicism he played a role were violinist Fritz Kreisler; author, congresswoman and later ambassador to Italy Clare Boothe Luce; American Newspaper Guild founder Heywood Broun; entertainer-night club owner Ada Smith DuConger - better known as Bricktop and former communist agents Louis Budenz (originally - a Catholic) and Elizabeth Bentley, among others.
The Budenz return was particularly spectacular, as Budenz' name was still listed on The Daily Worker masthead as managing editor the day he renounced communism. Budenz had even written a series in 1936 for the communist daily attacking Sheen.
Kreisler met Sheen one evening when Sheen was leaving the apartment of a friend whose wife had just died. The friend pointed to Kreisler's door and told the bishop the great violinist was his neighbor. Sheen knocked at the door, introduced himself, and was invited into the house, where he asked, "Would you like to take instructions?" Shortly thereafter, Kreisler and his wife were received into the Catholic Church.
The bishop did not only spread the faith among the famous. In 1950 he was named national director of the Society for the Propagation of the Faith, the church's principal mission organization, a post which he held until 1966.
At that point, Bishop Sheen's career took a remarkable turn. The radio and television personality was transformed abruptly into the bishop of Rochester N. Y.
In his apostolic letter appointing Bishop Sheen to the See, Pope Paul VI said: "Everything that you have so tirelessly accomplished in the past, by deed and by the spoken word, to feed Christ's flock has won for you universal acclaim. We now nourish the fond hope that in the future you will vigorously undertake even greater things."
His greeting in Rochester was considerably different from that normally given a new bishop anywhere. A crowd of 3,000 awaited his arrival at the airport and thousands lined the streets from the airport to the downtown area and cheered.
The bishop responded warmly, saying that while he had been responsible, as head of the Society for the Propagation of the Faith, for 800 dioceses, he was pleased to be given only one in his new post."I have an ardent desire," he said, "to spend myself and to be spent, to get my arms around Rochester."
But the bishop did not concern himself with local matters only. In July 1967 he called for an end to the Vietnam War, asking President Lyndon Johnson to announce, "In the name of God, who bade us love our neighbor with our whole heart and soul and mind, for the sake of reconciliation I shall withdraw our forces immediately from southern Vietnam."
Less than a year later, Bishop Sheen became involved in an incident which damaged his standing in the eyes of many: he gave a parish to the U. S. government, then four days later, after a storm of protests, took back the gift.
The bishop announced that he was giving away the parish on Ash Wednesday, and specified only that the proceeds go to the poor.But the parish pastor immediately opposed the move, saying, "There is enough, property around without taking the church and school."
Protests followed from parishioners and priests of the diocese. Bishop Sheen backed down.
Though he was a friend of the famous, Bishop Sheen throughout his career showed concern for the poor. He spoke about the division between the rich northern hemisphere and the impoverished southern hemisphere long before the concept became current in geopolitical discourse.
In 1969, Bishop Sheen ordained the first permanent deacon in the United States, a former Anglican priest who was married and the father of four children.
In October of that year, Bishop Sheen, then 74, resigned as bishop of Rochester and was given a titular See with the personal title of archbishop.
Though he thereafter held no official position, Archbishop Sheen continued to preach and to make television appearances and never lost his touch. His wit continued to sparkle; his sense of the dramatic inflection or gesture never faded.
In 1973, he told the Thomas More Lawyers' Guild, an association of Catholic' lawyers, that it was more difficult to be good then than 20 years ago. Today, Christians must stand up and be counted, he said, adding, "It is very easy to flow with the current. Dead bodies flow downstream. It takes live people to resist the current."
Addressing the Western North Carolina Methodist Conference in 1974, he deplored the loss of the sense of sin.It used to be that the Catholics were the only ones to believe in the Immaculate Conception," he said. "Now everyone believes he is the immaculately conceived."
In July 1977, the archbishop, then 82, underwent open heart surgery and by November was called fully recovered by the chief surgeon of the operating team.
His public appearances became less frequent thereafter, but did not stop. In January 1979, speaking at the 27th annual National Prayer Breakfast in Washington, he began by saying: "Mr. President, Mrs. Carter, my fellow sinners."
In his talk, he said people didn't talk much about sin any more. "The rabbis and priests and ministers stopped talking about sin.The jurists picked it up and turned sin into a crime, and finally psychiatrists converted it into a complex. The result is that no one is a sinner."
Archbishop Sheen had a seat of honor and received a personal greeting and embrace from Pope John Paul II when he visited St Patrick's Cathedral in New York on his October visit.
In an introduction written for a book about the pope's journey, Archbishop Sheen wrote, "John Paul II, once he got into the world, never stopped moving into it - flying, walking, motoring." The pope, he said, "has won hearts without arms, and made the people of the United States and the whole world feel in a new way the truth of the words of the Latin poet Terence: 'I am a man, and nothing human is foreign to me.'"
Archbishop Sheen was on television again as the pope arrived in the United States Oct. 1. In the taped program, he said of the pope, "He tells young people that love is a self-giving that results in recovery. His mysticism of rights and liberties is not very different our American Constitution. It is a mysticism that he has been talking about from the border of Russia for many years . . .He knows that in America, our hands are full but our hearts are empty."
In his characteristic sign-off, he finished the October commentary, "Thank you and God love you."
<![if !supportEmptyParas]> <![endif]>
<![if !supportEmptyParas]> <![endif]>
Archbishop Fulton J. Sheen
"He never forgot the farm."
<![if !supportEmptyParas]><![endif]>
By Albina Aspell
Assistant Editor
<![if !supportEmptyParas]><![endif]>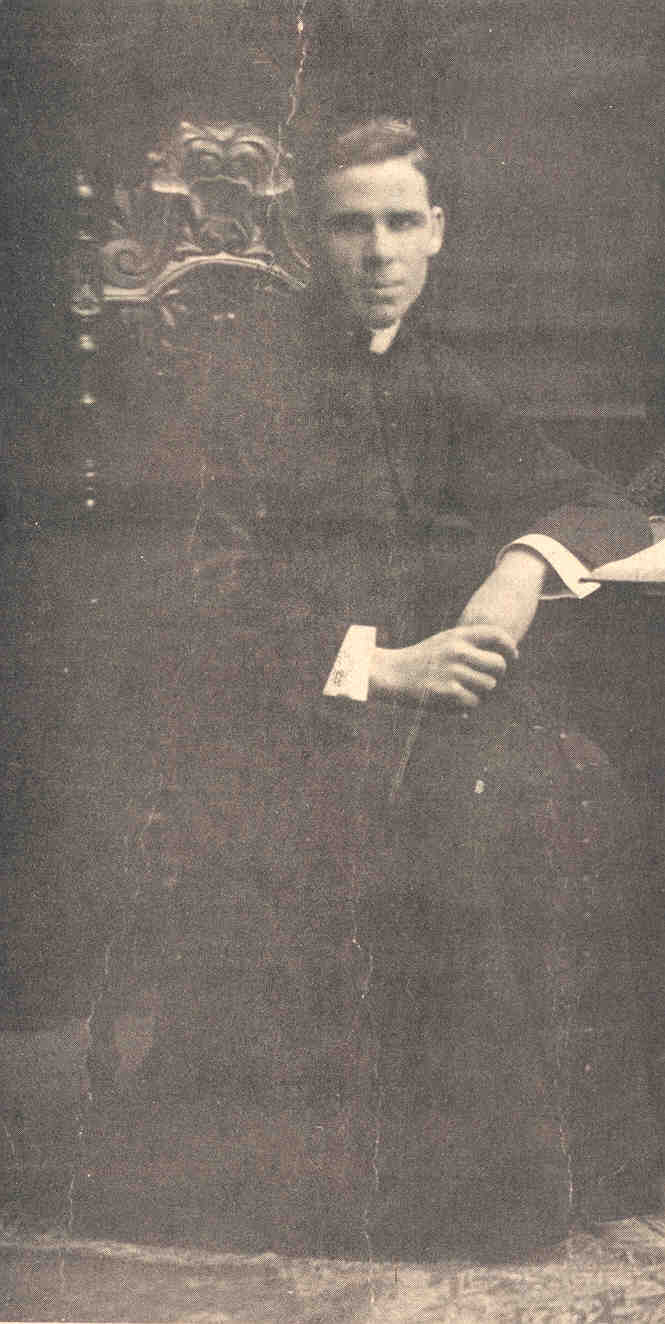 Honors at the Louvain
Fulton J. Sheen earned his Agrege en Philosophie at the Louvain in Belgium shortly after his ordination when this photo was taken.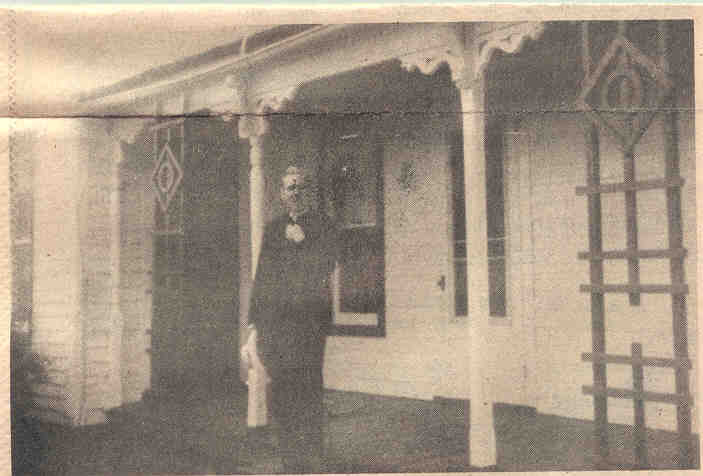 Coming Home
Fulton J. Sheen liked to be driven around the countryside in El Paso on his visits so he could pick out landmarks he remembered. Here he is photographed in front of the home in which his parents once lived.
"I see you've come to have your faith lifted. . . ."
<![if !supportEmptyParas]><![endif]>
"An atheist is a man without visible means of support. . . ."
<![if !supportEmptyParas]><![endif]>
"Long time no Sheen..."
<![if !supportEmptyParas]><![endif]>
Such one liners, and the fact he gave credit to his writers - Matthew, Mark, Luke and John - endeared Archbishop Fulton J. Sheen to millions around the world who fell under his spell in his many long years on radio and television.
But to members of Sheen's family - his close relatives in the Peoria diocese - memories of deeper dimension were recalled this week as preparations were underway for the archbishop's funeral in New York.Their information corrected a few facts long popularly accepted.For instance, that he was born on a farm.
In truth, the future bishop was born not on a farm, but in an apartment over his father's hardware store, and he was christened not Fulton, but Peter John Sheen.
And the 60 years of his priesthood -years that took him from a crossroads town on the Illinois prairie to the capitols of the world and the- were marked with very special achievement already well known and recorded.
Archbishop Sheet was a member of a large and now scattered Irish family, his kith and kin bear names like Cleary, Berry, Fulton, Hayden, McIntee, Kavanaugh, White, Marlatt, Flynn, Chambers, Boyle, Coughlin, Shannon Barrett, Flanagan, Phelan and, of course, Sheen.
And this is the way some of those who were closest to him remember him:
"He cried the loudest and screamed the hardest of any baby in the family.We all said later he was probably already practicing for the pulpit."
They referred, of course, to the timbre and power of his speaking voice which he trained even as a child. The story is that he often made up spiritual talks which he delivered before relatives, and already concentrated on inflection and proper dramatic effect.He was later to hone his skill on debating teams at St. Viator, and at Catholic University of America where he eagerly sought chances to speak in public and earned the name "Full-tone" Sheen.
The future archbishop was born May 8, 1895 in his parents' home in El Paso where his father, Newton Sheen, a widower and former farmer from Minonk, operated a hardware store. His mother was Delia Fulton Sheen, of Kickapoo, who traced her roots to the Irish village of Croghan, near Boyle, in County Roscommon.
Young Peter was the first, and smallest, of a family of four sons, but there was also a half sister, a daughter born to Newton's first wife, who, after the death of her mother, had been absorbed into the family of Newton's brother, Andrew.
While their firstborn son was baptized Peter John, the family says he refused to answer to that name almost as soon as he could talk, preferring instead to be known as Fulton, a tribute they say to his love for his maternal grandfather. He got his way even at that early age, and became Fulton J, Sheen forever more.
Young Fulton was of grade school age when his family moved to Peoria, and enrolled him in the Cathedral school where he distinguished himself in his studies, sold ads for the cathedral bulletin, and. served as altar boy to Archbishop John Lancaster Spalding, Peoria's first bishop.
In a return to Peoria in 1951, Sheen recalled the words of Aristotle:
"The really perfect movement is the circle because it always goes back to its beginnings. I have come back to my starting point - the city, the people, the clergy, the streets. I've lived under all the bishops of Peoria."
That was another thing about Archbishop Sheen, say his family and friends. He never forgot his roots. He never forgot the farm. While there wasn't much of the farmer about him, he was always happy to come back to his family's acres to relax and be reabsorbed into its pleasant, unhurried life.
But in truth, the Illinois soil never had much chance to stick to the soles of young Fulton's shoes. He was not one to poke around in the dirt and disliked farm work so much he often dodged it by burying himself in a book and leaving the chores to others. Given responsibility for the chickens, he hated the task so much, he said in later years he could never enjoy a chicken dinner.
A family story he often told on himself concerned a pet goat that followed him around when he was six. A real love affair developed between the young Fulton and the goat, and his family hoped it might lead to a love for farming as well. But Providence intervened, the goat wandered into the farm kitchen, helped himself to a large batch of bread dough that had been set to rise, and died shortly after of acute indigestion. Fulton took the loss with characteristic strength.
The Sheen family, while not poor, led a simple life. There was no running water in the home, and no phone, and the Sheens would use a neighbor's phone whenever they needed to make a call. But they enjoyed having people around and family gatherings were not unusual. (Although they owned good Haviland china, they used the old plates even when company came.)
Young Fulton was graduated from Spalding Institute for Boys and went off to St. Viator's in Bourbonnais, IL. But he returned summers to Peoria where, since his family had moved to a farm in Wyoming, he boarded in the home of his cousins, the Arthur Fulton family on Linn Street, during his summer stints as a clerk at O'Brien-Jobst, a men's haberdashery.
"I remember very well the day he came to our house and told my family he was going to be a priest," says Mrs. Clarys Cleary, a cousin. "It came as no surprise. He read all the time; he was really a scholar."
Mrs. Cleary also remembers going to his ordination, and says there was no party, no celebration afterward. And she saw only little of him in his brief time as assistant at Peoria's St. Parick's a few years later: he was too busy with parish work to visit very often.I
The bishop's years away from the diocese are no mystery - his fame rew and his accomplishments mounted and his relatives back home watched and cheered as honor piled upon honor.
"But he came back often; he liked to be with the family," says Mrs. Cleary, remembering that he always drove up in a big car. "And once when the pigs got out of their pen just as he arrived, he casually waved off the family welcome until they were corralled again.
"When he came back for my anniversary a few year ago, he went out and walked down the street in El Paso because he wanted to see the building he was born in.It has since been torn down, but then he wouldn't have wanted it preserved as an historic building or anything like that."
The bishop's mother and father lived to see his fame, but they never visited him in Washington, D.C. or in New York, although he made himself accessible to members of his family.
He was generous with his nieces and nephews, helping them with funds for their education and often inviting them to visit in his home.
At the height of his fame, Archbishop Sheen was surrounded, even mobbed, by admiring crowds, and the same was true on his visits to Peoria.During his 1951 stay he drew vast numbers to his side here, but on his last trip at the age of 82, the occasion proved to be different.
Then, when he left the Peoria airport to return to New York, he was all but unrecognized. The crowd was young, and the small, dapper figure unfamiliar to all except a nun who, at the last minute, walked up, kissed him and worked on without saying a word.He took the gesture with equanimity, as if such spontaneous displays of affection were common.
"Tne young didn't know him, and the older people loved him so much they forgot convention," says Mrs. Cleary, who remembers also that, as they prepared for his departure from the home of his nephew, Dr. John Sheen of St. Anthony's Parish in Bartonville, Mrs. Sheen asked if she could pack him a lunch.
The famous "Uncle Fultie" had replied that yes, she could.And so Archbishop Fulton J. Sheen - who had dined with popes and princes, whose priesthood had taken him far abroad from the central Illinois crossroads to mingle with the rich and famous and who had made his mark forever on the church and the nation - left Peoria for the last time with a peanut butter sandwich in his pocket.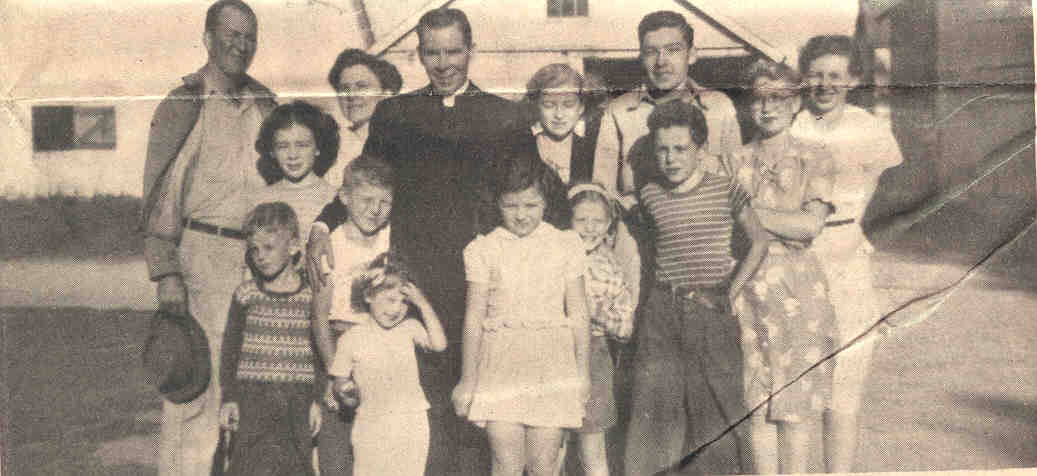 Family informality
Fulton J. Sheen is shown here with his cousin, Mrs. Clarys Cleary, her husband, Michael J., and family of ten children - - plus an extra cousin - - during a visit to the Cleary family in El Paso in the late 40's.
<![if !supportEmptyParas]><![endif]>
<![if !supportEmptyParas]><![endif]>
<![if !supportEmptyParas]><![endif]>
Services for Abp. Sheen
<![if !supportEmptyParas]><![endif]>
A Memorial Mass for Archbishop Fulton J. Sheen, who died in New York last Sunday, will be celebrated by Bishop Edward W. O'Rourke at St. Martin de Porres Church, 619 W. Hurlburt St., Peoria, at 11 am. Sunday, Dec. 16. St. Martin de Porres was formerly St. Patrick's Parish, where the then Father Sheen served as assistant pastor for one year in 1926. That parish was the archbishop's only local assignment.
Funeral Mass for the late archbishop, an El Paso native, was at St. Patrick's Cathedral, New York on Thursday with Bishop O'Rourke as one of the concelebrants.
Other local memorials included a Mass of the Resurrection celebrated at the Academy of Our Lady/Spalding Institute, Peoria, on Thursday. The entire student body participated, and concelebrants were Father Charles Beebe and Father Donald Henderson.
Archbishop Sheen was graduated from Spalding in 1919.