(The following is a newspaper article after Bishop Sheen's death reprinted here from page one of the December 12, 1979 issue of the El Paso (Illinois) Record.)
<![if !supportEmptyParas]><![endif]>
El Paso native, Archbishop Fulton J. Sheen dies Sunday
<![if !supportEmptyParas]><![endif]>
El Paso native, Archbishop Fulton J. Sheen, whose radio and television programs made him one of the Roman Catholic church's best-known figures in the United States, died Sunday night at the age of 84, after a long battle with heart disease.
He died at his home on Manhattan's Upper East Side after a long battle with heart disease. His body was taken to a New York City funeral chapel. Burial will be in the crypt of St. Patrick's Cathedral, a resting place up to now reserved for those who led the New York Archdiocese or it's cathedral.
His religious commentary program, "The Catholic Hour," began on radio and eventually
spread to television as "Life is Worth Living".
The "Catholic Hour" was begun in March 1930 by the National Council of Catholic Men, and Sheen was selected as its first preacher. The Council estimated that the radio show reached 7.5 million listeners.
Fulton John Sheen was born in the second floor apartment at 25 West Front Street in El Paso on May 8, 1895, the son of Newton Morris and Delia (Fulton) Sheen. His parents were then living in the rooms above their hardware store, The Newton Sheen Hardware store.
Reverend Jeremiah H. Quinlan was pastor at St. Mary's church when the baby boy was christened Peter John, on May 12 and was usually thereafter called P.J. He later dropped his given name and took his mother's maiden name. He was a frail boy, who preferred reading books to indulging in the usual childhood games.
Newton Sheen sold his hardware store to a Mr. Guillemont and the family moved to Peoria, where the future Archbishop began his education.He attended parochial schools in Peoria and graduated from Spalding Academy in 1913. He completed his theological studies from St. Viator college in Bourbonnaisand St. Paul's Seminary, St. Paul, Minn. He was ordained in Peoria on Sept. 20,1919.
After he was ordained, he did graduate work at the Catholic University of America in Washington, D.C.Sheen then went to the University of Louvain in Belgium, where he later became the first American to be awarded the Cardinal Mercier prize for international philosophy. He also attended Angelico university in Rome.
While in, Europe, he taught at St. Edmund's college at Ware, England, and on several occasions engaged in public debates with leading European philosophy teachers.
In 1926, he returned to the United States to do parish work at St. Patrick church on Peoria's south side. It was his first and only parish.
"For all intents and purposes, that was to be my life and I was happy about it," he said.
But less than a year later, he left Peoria after being assigned to teach philosophy at Catholic university.
The archbishop will not be remembered in El Paso as a man who was high hat. When a small group of El Paso natives attempted, in the mid-1970's, to restore the building that is believed to be his birthplace, the then-bishop humbly discouraged the attention.
George Drake, El Paso, said Sunday that although the building was torn down, the group owns the land and still hopes to honor the El Paso native.His first national prominence came with his long series of sermons preached on the Catholic Hour, although his early books were on the market before that: Old Errors and New Labels; Philosophy of Science; War and Guilt and Freedom Under God.In 1951 he was elevated to the rank of Bishop.
His pen continued to turn out books one after the other, including: "Lift Up Your Heart"; "God and Intelligence"; "Three to Get Married"; "Philosophy of Religion"; "The World's First Love"; "Peace of Soul"; and finally what is considered to be his masterpiece, "Life is Worth Living".
The archbishop is survived locally by his first cousins, Merle Fulton, Vera Reeves, and Mildred Kearney all of El Paso. Another first cousin, Mrs. Michael Cleary, originally from El Paso, is now living in Peoria.
After his retirement in 1969, the Archbishop led a quiet life continuing his writing, including his autobiography. He was the author of 60 books during his lifetime.
His last visit to El Paso was in 1975 to celebrate mass at his cousin's 50th wedding anniversary, that of Mr. and Mrs. Michael Cleary.
St. Mary's Catholic church, El Paso will honor Sheen Sunday when the 8 a.m. mass will be offered in his memory. According to Rev. John O'Connor of El Paso "...he was a very, very warm person and a beautiful man."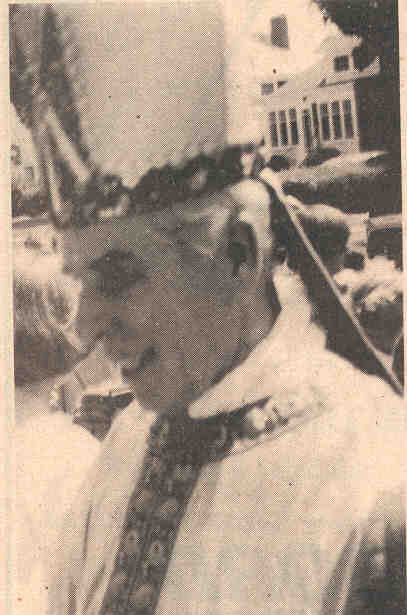 Archbishop Fulton J. Sheen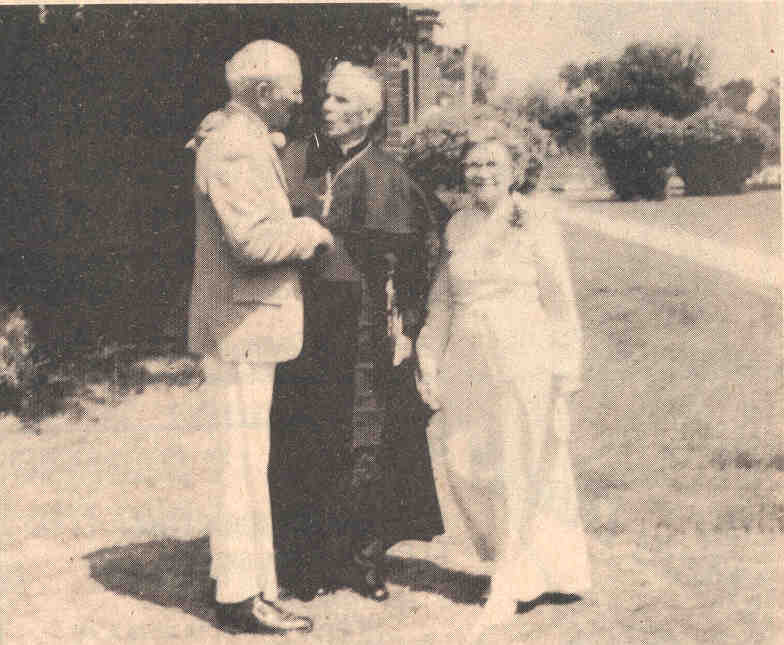 Archibishop Sheen returned to El Paso in 1975 to celebrate mass for the Michael Clearys' 50th wedding anniversary. Mrs. Cleary was the archbishop's first cousin.