(The following is an article reprinted here with permission from the Peoria (Illinois) Journal Star newspaper "Yesteryears" column authored by Bill Adams dated Monday, September 18, 1989 in section D pages one and three.)

Milton Berle took back seat to
Bishop Sheen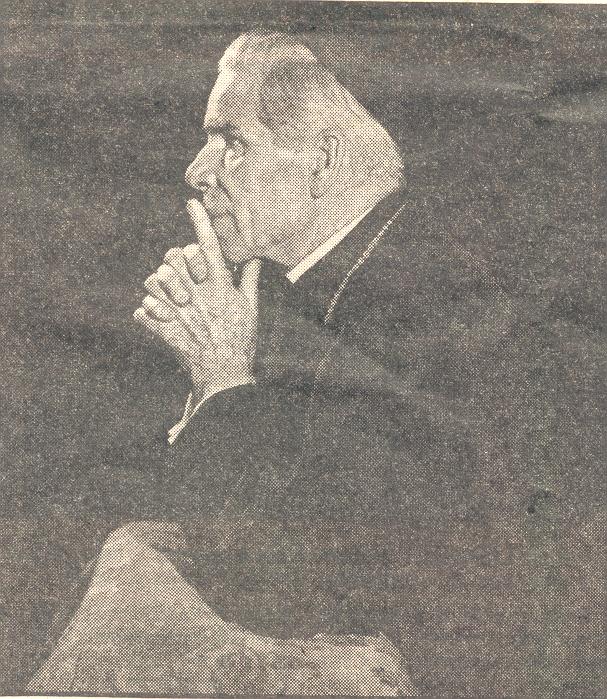 One of Peoria's most famous radio and television personalities, in addition to Marian and Jim Jordan and Charles Correll was one of the most unlikely, because it was not his true vocation. I'm not sure you could even call it his avocation, and sideline is another description that doesn't fit. This is not because he was one of, if not "the" most visible Catholic this side of the pope. He was Archbishop Fulton J. Sheen. But back in the 1950s he was not only a very prominent TV "star," his television program, "Life is Worth Living," became the No. 1 program on the national networks. As a matter of fact, he beat out "Uncle Miltie," Milton Berle and his Texaco Star Theater. Berle was "Mr. Television" at the time, and Bishop Sheen topped him.
Although Fulton J. Sheen was born in El Paso, Ill., on May 8,1895, Peoria has every right to claim him, because the family moved to Peoria shortly after he was born. His birthplace was a small apartment above his father, Newton Sheen's, hardware store at 25 West Front St. in El Paso. His Christian name was Peter John, and he was known as "P.J.", but he preferred Fulton, which was his mother's maiden name.
While growing up in Peoria, Sheen attended St. Mary's Catholic Grade School and graduated from Spalding Institute in 1913. While attending Spalding, he was a basketball buddy of another future radio star, Jim Jordan (Fibber McGee). Jim Jordan's future wife (Molly), was attending the Academy of Our Lady, across the street from Spalding.
After high school graduation, Sheen attended St. Viator's College in Bourbonnaise (near Kankakee) to prepare for the priesthood. He was ordained in Peoria in 1919. In later years, he was quoted as saying, "I have no earlier recollections than a de- sire to be a priest."
His only parish assignment was as an assistant at St. Patrick's Church in "the south end." He came back in February 1966 to attend the parish's 100th anniversary celebration.
The Most Rev. Fulton J. Sheen began his broadcasting career in March, 1930, on a radio program, "The Catholic Hour." The show was a product of the National Council of Catholic Men, and Sheen, virtually unknown nationally, was selected as its first preacher. The council later estimated that the "fringe time" radio show reached 7 ½ million listeners. It received mail from all parts of the world, as far away as the Falkland Islands, Australia, Turkey and South Africa.
But Rev. Sheen's biggest, broadcasting triumph was yet to come. When he began television's "Life Is Worth Living" in 1952, he was auxiliary bishop of New York. He was described as "a modest, middle-level cleric who had long been heard on radio."
Sheen was the "star" and only "regular" on the weekly black-and-white, half-hour, prime-time program. His set was a simulated study and he punctuated his points with drawings scrawled on a blackboard. He came across as a charming, well-spoken Catholic bishop offering anecdotes and little lessons in morality. "Sermons" would be too stuffy a word for his messages. And he had a following that far exceeded his Catholic following.
My father is a perfect example. Dad was not Catholic, and he was also a big Milton Berle fan, but he wouldn't miss "Life Is Worth Living." And for you younger readers, let me hasten to add that this was long before VCRs were invented. So, if you missed a program, you just missed it.
It's hard to conceive today that a Catholic bishop talking alone and writing on a blackboard could not only be popular, but at his peak, become the No. 1 TV show in America. Bishop Sheen did just that by actually beating "Mr. Television," Milton Berle, in the ratings.
Many of Bishop Sheen's messages discussed the evils of world communism. The show's most dramatic incident came in, early 1953 when he gave his reading of the burial scene from "'Julius Caesar." For the names of Caesar, Cassius, Marc Anthony and Brutus, he substituted the then leading communist names of Stalin, Beria, Malenkov and Vishinsky. And with hypnotic forcefulness he added, "Stalin must one day meet his judgment." A few days later, the Russian dictator suffered a sudden stroke and a week later he was dead. There was never any comment from Sheen's office on this remarkable coincidence, but it was widely reported in the press.
"Life Is Worth Living" ran from Feb. 12, 1952, until April 8, 1957. The first three years were on the old Dumont Network, then it moved over to ABC. Bishop Sheen was also national director of the church's Propogation of the Faith, and before his retirement in 1969, he was credited with bringing into the Catholic faith such notables as newspaper columnist Heywood Broun, automaker Henry Ford II, and playwright Clare Boothe Luce. He also brought back into the church Louis F. Budenz, former editor of the Daily Worker communist newspaper, and former communist spy, Elizabeth T. Bentley.
The bishop visited Peoria on many occasions over the years. His last visit here was May 7, 1977, when, he received the Order of Lincoln, which was described as the State of Illinois' highest honor.
In 1978, my wife, Flossie, was chairwoman of the Catholic Women's League's spring luncheon. She wrote to Archbishop Sheen, inviting him to be their guest speaker. He was too ill to accept, but his answer to her on October 20, 1978, read in part "Your invitation to address the Women's League of Peoria is one my heart would long to accept. I have my roots in Peoria, and I would love to avail myself of the opportunity of another visit. However, I have just recently been released from the hospital and my doctors have insisted that I cancel all engagements for this year." He signed it by his, then, title as Titular Archbishop of Newport.
Fulton Sheen died the following year, on Dec. 9, 1979, at the age of 84. He passed away at his home on Manhattan's Upper East Side after a long battle with heart disease. When Sheen beat out Milton Berle in the ratings, a reporter asked Milton how this could possibly happen. Berle's reply was, "Bishop Sheen had better writers."
Archbishop Fulton (Peter John) Sheen, one of our town's best ... and it seems like only yesterday!

Link back to:
Archbishop Fulton J. Sheen Home Page