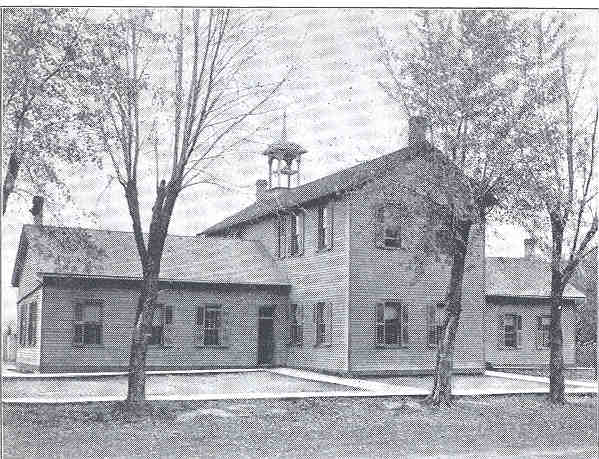 The old West Side School.


was the first to graduate under it. Classes were conducted in the two school buildings and in downtown office buildings. After first being defeated, a successful vote was taken on May 29, 1919 providing a bond issue for the purpose of purchasing part of the fairground and the erection of a new township high school building. The edifice which was completed in 1921 was one of the finest in the state at that time and for many years was adequate for the physical, educational and cultural advancement of the more or less static school population. The first class to graduate from the new building numbered twenty- nine; the class of 1953 totaled fifty-five.
Today with the state's stress on vocational and physical education and the rapid increases in school population, the building is becoming overcrowded and inadequate to meet the demands of current educational needs. The grade schools, likewise, are confronted with complexities which must be resolved soon in order to keep the line of El Paso's educational progress moving ever upward. In 1949 districts in the El Paso area were, by popular demand, consolidated into one school unit. The district houses, with the exception of Secor School and the Spring Hill rural school which still operate grades one through six, were closed. Children from all of the outlying areas are transported by nine buses into the three school centers, the bulk coming into El Paso. Those who are transported daily include seventh and eighth graders and high school students from the entire area and all grade school children from the closed rural schools. When such consolidation and concentration of school population was effected, it foreshadowed the necessity of adequate housing and educational facilities.
The early schools were not without their amusing, as well as serious, anecdotes. The story is told of the girl who lost her gold pen. Josiah Woods of Washington, Illinois, who was principal, demanded that there be a search. Three girls, Fannie Sloat, Fannie Parks and Fannie Cazelot were in the school at that time and when the principal
Page 209